what is an Asbestos
survey?
An asbestos survey involves the collection and testing of samples and a detailed report of the results.
Why do we have to test for the presence of asbestos?
Testing is required by the Federal Government and State of Massachusetts when performing demolition or renovations.
MassDEP Asbestos Regulation 310 CMR 7.15(4) requires that prior to any demolition or renovation activity, the owner/operator must engage an Asbestos Inspector, who has been certified by the Department of Labor Standards (DLS), to conduct a thorough inspection to identify the presence, location, and quantity of any asbestos containing material (ACM) or suspect ACM (310 CMR 7.15(4)) that may be present in the area to be worked on.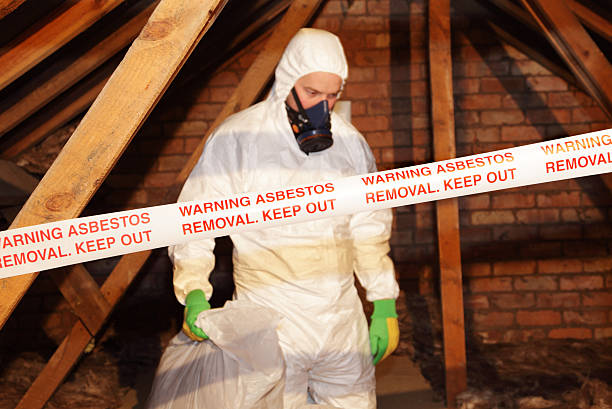 Why do I need an asbestos survey?
Although there are many materials found in homes and buildings that characteristically contain asbestos, it is impossible to confirm that without taking samples of the material and having them analyzed in a laboratory. 
A visual inspection is not sufficient to confirm or deny the presence of Asbestos. 
How much does an asbestos survey cost?
Cost can vary depending on the number of samples collected for testing.
What is the difference between Asbestos Sampling & Testing
Although many people use the terms Asbestos Sampling and Asbestos Testing interchangeably they are not the same thing.
Sampling refers to the collection of suspect building materials by a licensed asbestos inspector.  The samples are logged on a chain of custody and transported to an independent laboratory where they are tested.  The laboratory produces a report of the results determining whether or not any asbestos containing material ACM is present.
Does the age of the building matter?
No, even brand new building materials and structures must be tested. (Please note: the age of the structure makes no difference, a survey is required no matter the age of the structure).
How Are Samples Analyzed?
What is PLM Polarized Light Microscopy?
PLM is the standard analysis technique that works well for most materials
The analyst actually utilizes 2 kinds of microscopes
Samples are broken apart to look for suspect fibers
Slides are then made and placed on the PLM to ID fibrous material
Percentages are VISUALLY ESTIMATED from viewing the material through both scopes
Some samples are tested using the Point Counting Method
Typical materials that are candidates for point count analysis include drywall-joint compound, ceiling or wall texture, hard plaster, etc.
The main purpose to point count a material is to find out if it contains less than 1% asbestos
Is there an advantage to having the samples tested using the point counting method?
If point counting is not used, many materials could be mistakenly considered to contain more than 1% asbestos. This mistaken assumption could lead to an expensive asbestos remediation project that could otherwise be avoided
How long does it take to get results once the samples have been tested?
Turn around time can vary from same day results to more than a week. Look for a company that can provide results within the day or by the next day-24 hours or less.